APF Futurity™ Nasal Spray Pump
Highly Recyclable Nasal Spray Pump
Aptar Pharma's latest innovation, the APF  Futurity™ pump, represents our first nasal spray packaging solution that is rated "highly recyclable" because of our use of only plastic materials, and absence of metal parts. The APF  Futurity™ recyclable pump fulfills state of the art sustainability requirements for multidose nasal spray systems while maintaining the precise and reliable nasal dosing capabilities you expect from Aptar Pharma.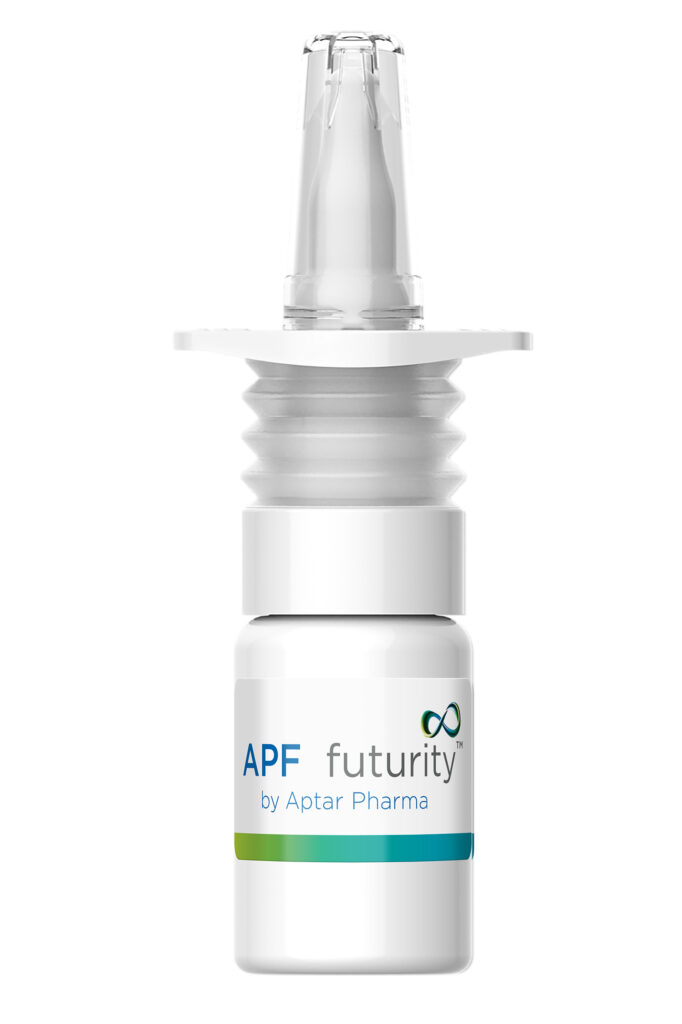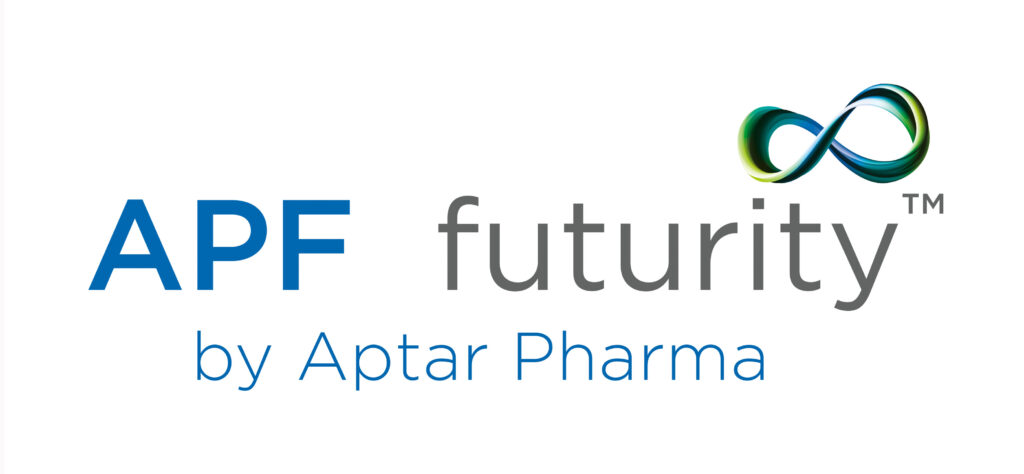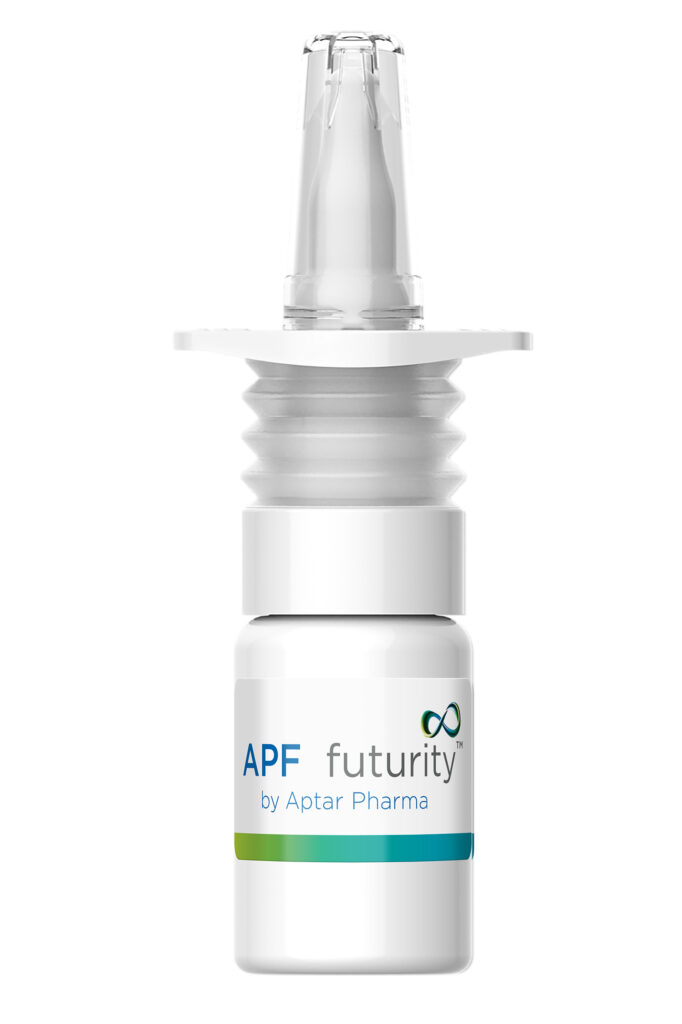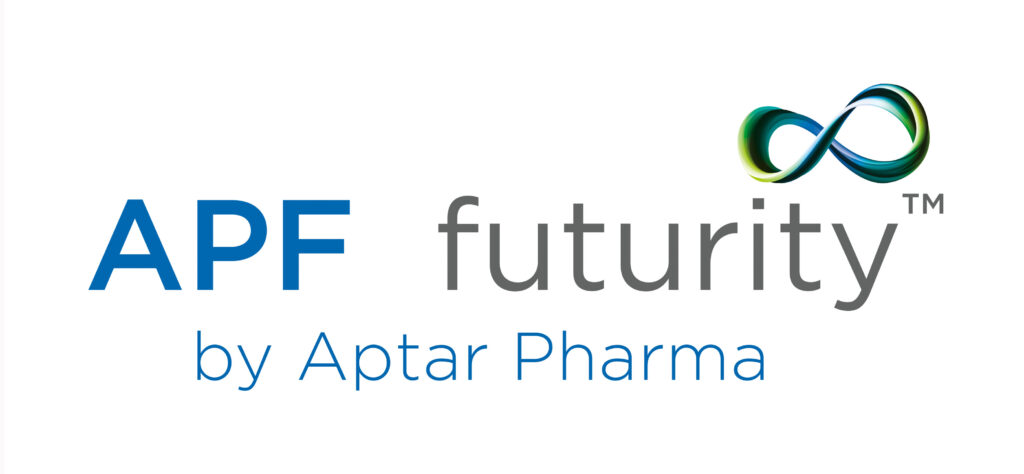 Recyclable Nasal Spray Pump
A More Sustainable Nasal Spray Pump
With growing calls for more recyclable drug product packaging solutions, Aptar Pharma has designed a new "highly recyclable" preservative free nasal spray system. Our APF  Futurity™ recyclable nasal spray pump brings all the performance and safety you have come to expect from our nasal spray devices in a new, more sustainable package.
The APF  Futurity™ is Aptar Pharma's first metal-free, full plastic, recyclable nasal spray pump. With a plastic mechanical Tip Seal and plastic bellow spring, APF  Futurity™ nasal spray pump is our most recyclable nasal spray system yet and has been designed specifically for use with nasal saline or comparable OTC formulations. APF  Futurity™ can be clearly differentiated by its external plastic bellow spring designed to provide soft but concise actuation for the user.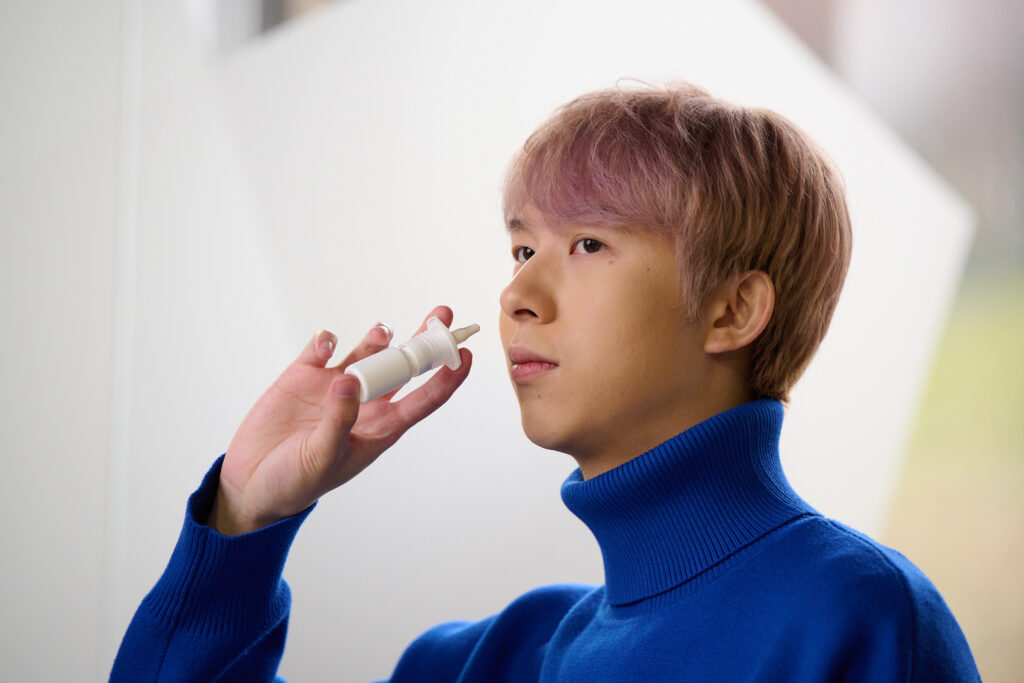 The APF  Futurity™ nasal spray pump system is composed of only polyolefin materials without any recycling disruptors. An emptied unit can be directly recycled into existing recycling streams with no further separation or part-unplugging work needed.
The new oval shaped finger flange offers not just ease of administration, but also enhances sorting of the spray pump by infrared scanner and air pressure separation technology during established recycling stream processing. Without the oval shaped finger flange, the otherwise round nasal spray bottle would simply roll away under sorting table air jets and not be sorted appropriately.
APF  Futurity™ also has the option to use circular materials including renewable feedstocks, while applying a mass balance approach for even higher levels of applied sustainability. APF  Futurity™ is the nasal spray pump designed to help you achieve your sustainability objectives while reducing the environmental impact on the planet.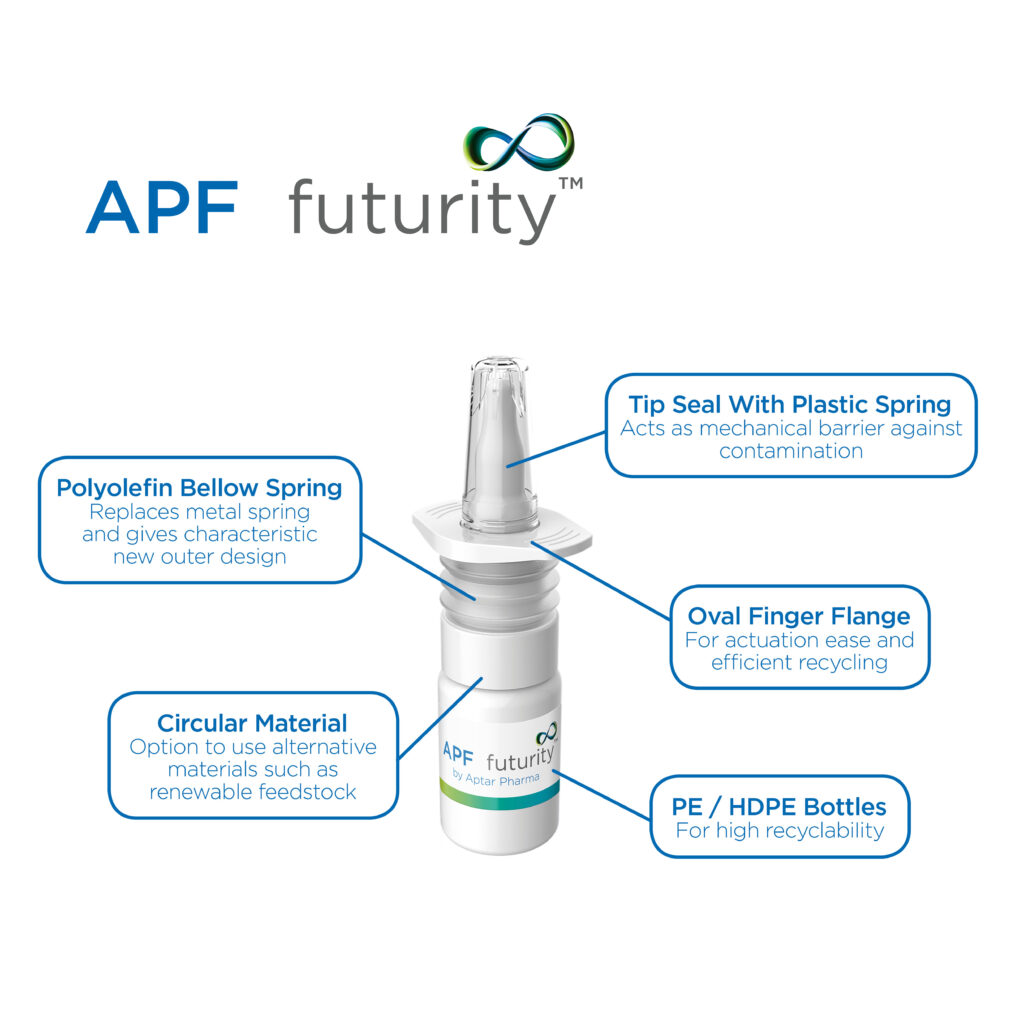 Recyclability Certification
Our APF  Futurity™ recyclable nasal spray system is recognized by cyclos-HTP as "highly recyclable" and has been given a "AA" rating. Cyclos-HTP are an independent German organization that assesses product packaging recyclability for European countries and provides classifications for individual devices or packaging systems.
Aptar Pharma utilized our proprietary Eco-Design tools in the development of the APF  Futurity™ recyclable nasal spray system. Eco-Design tools incorporate Lifecycle Assessment (LCA) perspectives that assess inputs, outputs and evaluate the product's impact throughout its entire lifecycle. Calculating reduced CO2 emissions, recyclability and circularity are key measures that help guide Aptar Pharma to enhance our overall sustainability performance.
Aptar Pharma is committed to applying our Eco-Design tools to all new device development programs. Aptar Pharma is constantly seeking opportunities to improve the recyclability of our products through the use of innovative design tools and have our success measured by recognized certification organizations such as cyclos-HTP.
Sustainable & Preservative Free
Not only is APF  Futurity™ highly recyclable, but it is also designed to support preservative free multi-dose liquid formulations. The purely mechanical Tip Seal is scientifically proven to physically block the ingress of bacteria or contamination into the nasal formulation.
The Tip Seal mechanism closes the orifice immediately after releasing the formulation, eliminating product evaporation and residual clogging. The recyclable APF  Futurity™ nasal spray pump can be gamma irradiated for sterility and has been validated with an ISO 11137 compliant process. Nasal spray delivery can now combine two important patient focused features: preservative free formulations delivered in recyclable packaging systems. The sustainable features of Aptar Pharma's APF  Futurity™ technology benefit both patients and the environment.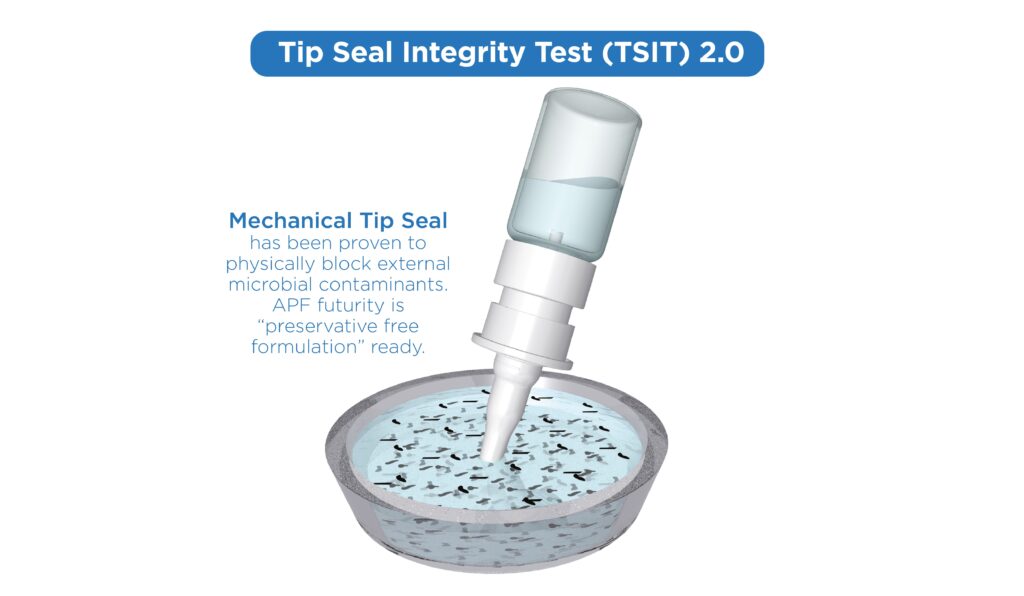 Leaders in Nasal Spray Technology
Aptar Pharma has a long and proven track record of being a leader in the development of advanced preservative free nasal spray pump designs. Our advanced preservative free (APF) nasal spray pump system has been used in many major multidose products around the globe.
The acceptance of regulators, customers and patients alike, clearly demonstrate its proven compliance, functionality, and convenience in an increasingly complex industry. APF  Futurity™ represents the latest addition to our range and advances our leadership position in nasal spray delivery through greater sustainability and recyclability.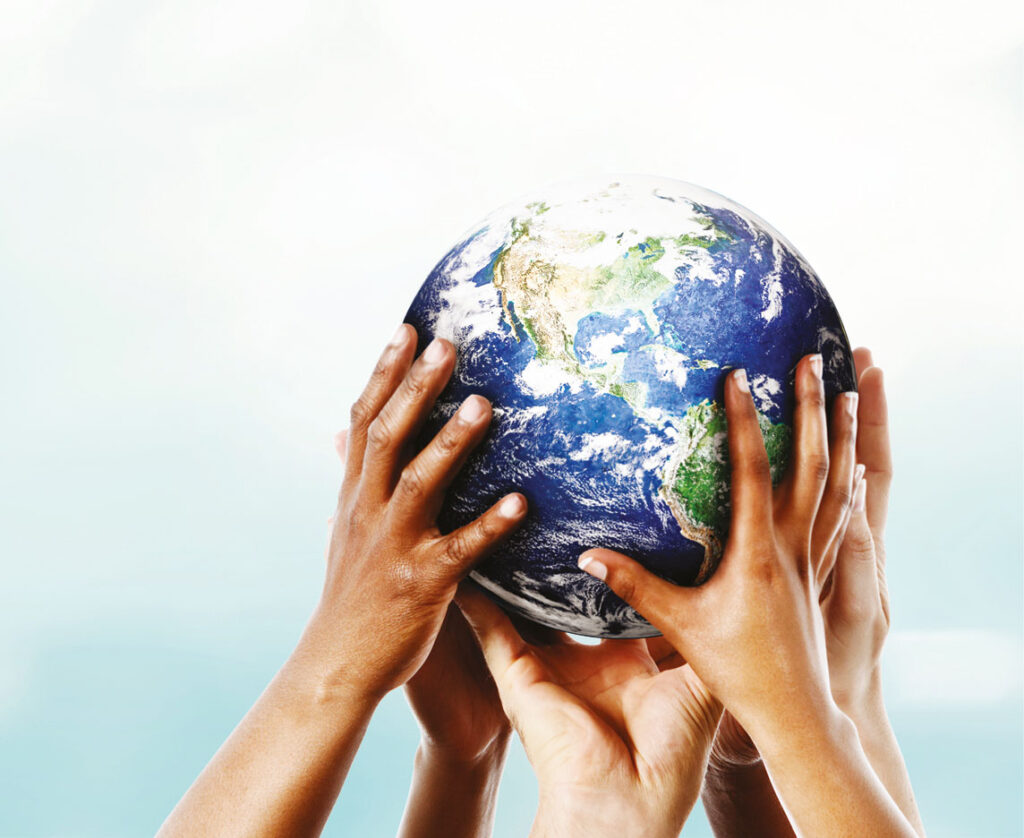 APF  Futurity™ Recyclable Nasal Spray Pump Key Features
Highly Recyclable
Cyclos-HTP rated "AA"
APF  Futurity™ is designed for recyclability and is certified "highly recyclable" by cyclos-HTP.
Metal Free
Metal free nasal spray pump
We removed all metal parts to eliminate consumer part-unplugging or separation work. APF  Futurity™ can be conveniently recycled as a whole unit when emptied.
Performance & Safety
No reduction in performance or safety
The APF  Futurity™ recyclable nasal spray pump delivers precise and consistent doses of liquid formulation every time.
Polyolefin Materials
No recycling disruptors
The APF  Futurity™ recyclable nasal spray device is composed of only polyolefin plastics and contains no recycling disruptors or metals.
Preservative Free
Multidose APF nasal spray
The all-plastic mechanical Tip Seal technology eliminates the need for formulation preservatives, for patient safety and confidence.
Circular Material Option
Renewable feedstocks & mass balance
The APF  Futurity™ system provides the option to utilize renewable feedstocks and a mass balance approach, to further enhance the sustainability of the recyclable device.
Details on Aptar Pharma's
APF  Futurity™ Recyclable Nasal Spray
This Might Also Be of Interest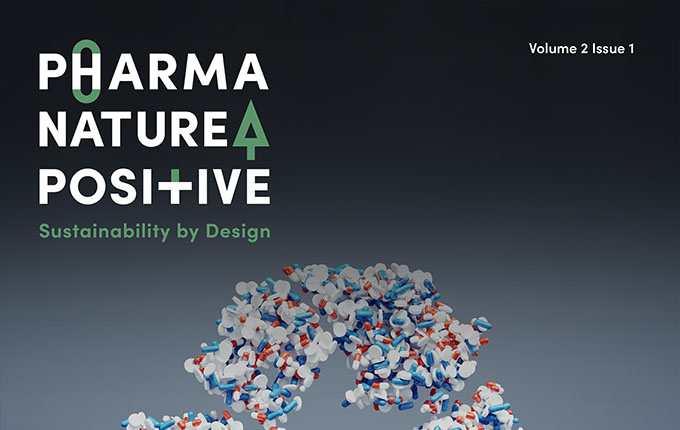 Consumer Driven Path to Circularity and Future Pharmaceutical Packaging
Publications, Pharmaceutical, Sustainability, Device Innovations, Brand Differentiation, Market Insights, Product Solutions
Read More
We Offer World-Leading Support Services for You at Every Stage of Your Product Development
Explore How We Serve Your Market
Requesting information on APF Futurity™ Nasal Spray Pump.