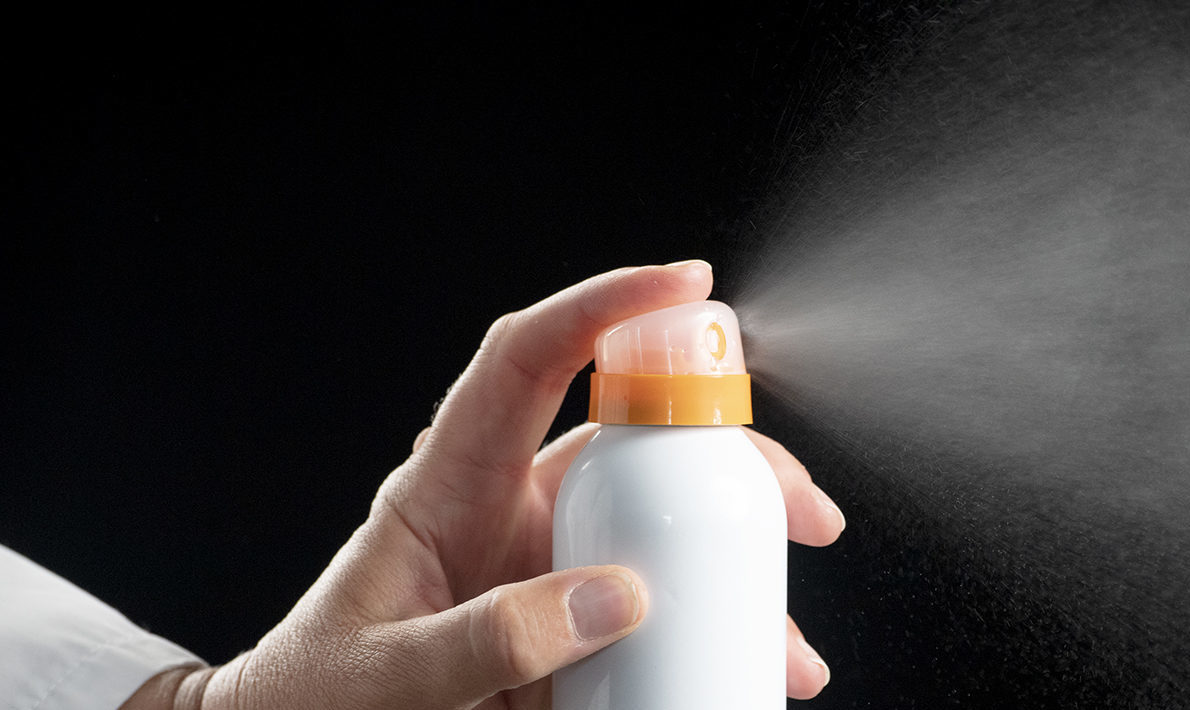 Setting the standard in dispensing, sealing and active packaging innovations, Aptar uses experience, expertise and key technologies to solve your dispensing challenges.
Technologies that improve everyday life for consumers and patients.
Active Packaging
Aptar CSP Technologies is an active material science solutions company that delivers innovative, highly-engineered active packaging solutions protect sensitive products, extend shelf life, enhance stability, and improve user experiences. Visit our active material science website to learn more.
Airless Packaging
This dispensing system combines a mechanically activated pump with a specifically designed container that, after filling, delivers a product without any air intake.
Performance requirements for airless packaging have increased exponentially over the past decade. That's why our technologies have evolved so they protect the formula and are convenient, reliable and portable. Our capabilities include responding to an evolving marketplace, because we know that today's consumers are increasingly looking for products designed to allow them to use every drop, as well as technologies that allow face treatments to be directly applied to the skin.
Bag-On-Valve
Bag-on-valve systems hold the product separate from the propellant, ensuring product purity. This fast-filling design uses compressed air or nitrogen outside the bag for more sustainable dispensing. These systems are environmentally friendly, provide ultimate product preservation, increase consumer convenience and, with 99 percent product evacuation, minimize waste.
Bi-injection
Bi-injection allows for the differentiation of your products by offering two colors and/or two materials in one molding process.
This technology promotes a unique appearance to help your products stand out on shelves. Bi-injection allows you to create a custom look to standard closures, differentiate a flavor or product within a line, unite two-tone color products within a brand and improve sealing properties. Other benefits include mold, spin and core back technologies.
Bonded Aluminum to Plastic (BAP®)
Our BAP® technology creates opportunities to accentuate your brand, engage consumers with an enjoyable experience and drive repeat purchases. BAP® is a versatile all-in-one foil to closure solution that provides a robust sealing through its proprietary induction sealing system. In addition to helping prevent product leaks, it also offers built-in tamper evidence and is counterfeit deterrent. BAP® allows you to create innovative designs and shapes for maximum shelf impact. It provides a repeatable and convenient experience to consumers, without ever compromising on packaging integrity and product safety. BAP® allows you to reduce overall packaging weight, scrap rates, energy consumption and quality claims.
Child-Resistant/Senior Friendly
Aptar Pharma's child-resistant nasal spray pump is a simple and intuitive solution that complies with Child Resistance and Senior Friendliness standards in nasal sprays. The technology doesn't interfere with the nasal spray's basic function and consequently does not impact spray performance or delivered dose. Your formulation is not exposed to any new contact materials.
E-Commerce Capable
We offer e-commerce-capable dispensing closures, pumps, pouch fitments, pressurized products and sealing technologies. These proven solutions were designed to withstand the challenges of shipping and handling, so you can be confident your products will arrive at the consumers' doors intact.
Food Protection
Our food protection solutions feature a range of absorbent packaging trays, pads, and pouches for retail and foodservice, combined with proprietary semi-automatic and automatic slicing equipment and tray sealers to increase in-plant efficiencies. We also provide lidding film material and innovative antimicrobial technology that can be seamlessly integrated into any packaging format. Our scientists and engineers solve your packaging and manufacturing challenges by providing a total system solution that integrates into your facility.
Whether you need a custom packaging system or one of our standard products, Aptar applies unique expertise in material science, along with our equipment and processing expertise to develop advanced systems that help extend freshness and enhance safety for fresh-cut produce and seafood.
SimpliSqueeze® Elastomeric Flow Control
As the global leader in Flow Control Solutions, Aptar's SimpliSqueeze® valve allows for the ultimate in clean, controlled, convenient dispensing. SimpliSqueeze® is versatile for use with a variety of applications, while providing high quality, repeatable performance with every dispense. With more than 25 years of commercial success and 30 billion valves sold, Aptar has the expertise and experience to deliver SimpliSqueeze® Flow Control Solutions to differentiate and optimize packaging around the world.
SimpliCycle® TPE Valve
In keeping with our corporate sustainability commitments we are pleased to introduce Aptar's new SimpliCycle™ Recyclable valve. SimpliCycle™ offers similar high performance, versatility and dispensing consistency that consumers have come to expect over the past 25 years from our silicone valves, but goes beyond by delivering on the environmental need for recyclability. Made from a TPE material with density < 1 g/cm³, the valve floats, allowing it to be easily separated from the PET stream, and then recycled along with the PP/PE olefin stream. SimpliCycle's™ combination of high performance and recyclability provides the ideal solution to revolutionize the world of sustainable valve dispensing.
Tethered
Our tethered closures technology not only helps provide improved convenience for consumers, but also increases closure recycling rates.
This uniquely simple, consumer-friendly technology can be used in almost any application, without interfering with product consumption. Tethered closures remain attached to the bottle throughout the entire packaging life cycle, which makes them more likely to be collected and sent through the recycling stream, therefore increasing plastic closures recyclability rates. In addition, tethered closures remove the possibility of closures being misplaced, a value-add for on-the-go consumers.
This innovative technology aligns with the Association of Plastic Recyclers "Caps-On" initiative to raise awareness of the importance of recycling the closure with the bottle.
Start a Project With Us
We can help you re-imagine what your product can be, what it can achieve and the competitive advantage it can provide.