Aptar Beauty + Home proudly shares that its
new manufacturing site in Oyonnax

, "Be One", has received

 the Special Jury Prize

at the

2022 Choose France Awards.

Under the aegis of three Ministries (Foreign Affairs, Economy, Territories), the annual Choose France Awards organized by Business France reward foreign investors who, through their commitments to France and its regions, contribute to the country's international attractiveness and its economic influence. Pascal Cagni, Business France Chairman together with Marie-Cécile Tardieu, COO of Business France announced the winners during the "Etats de la France" Summit that took place on November 15.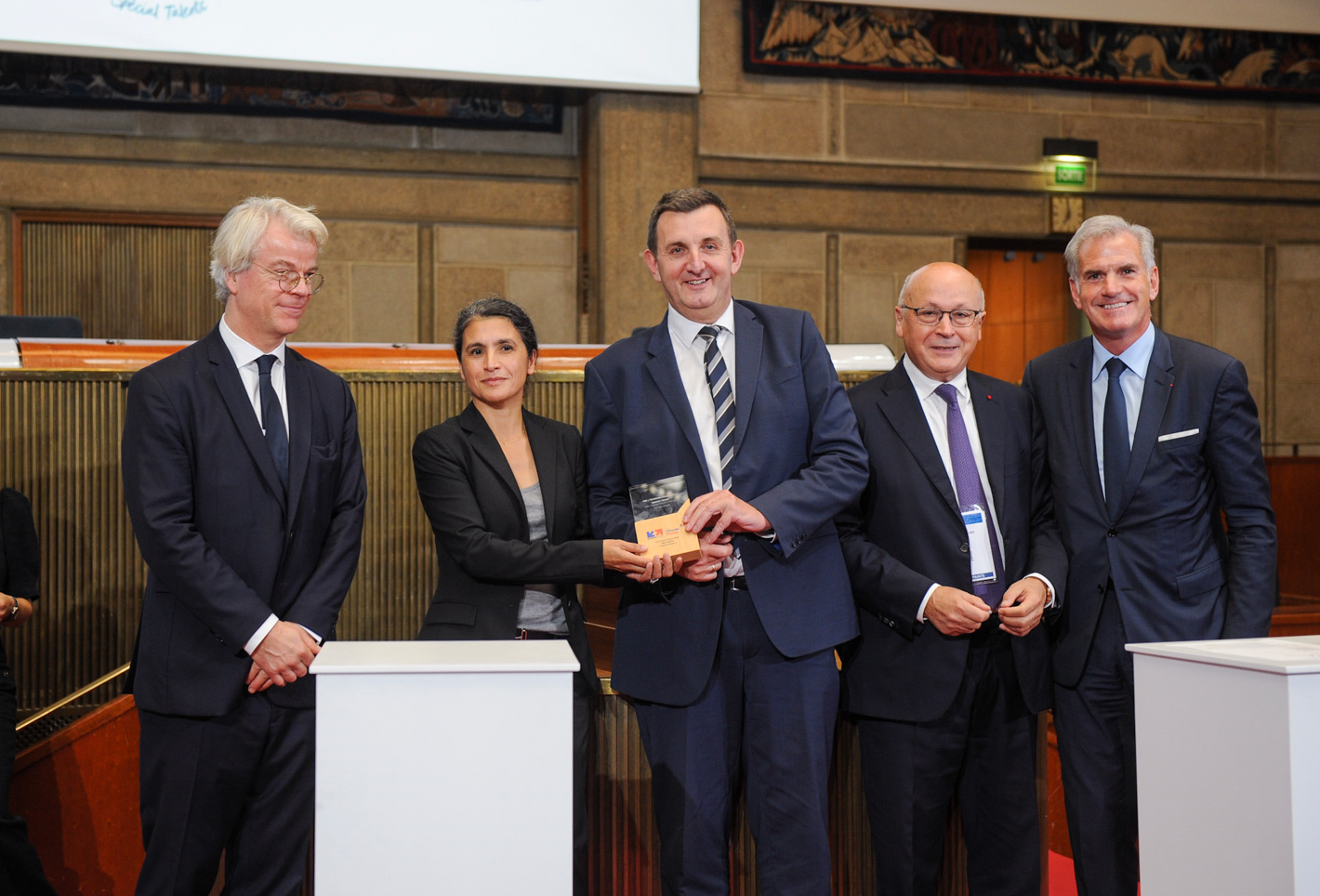 Choose France rewards projects from foreign investors that meet the priorities of the "France Relance" recovery plan. These are awarded to foreign businesses investing in France and are selected by a Jury comprised of representatives from public and private sectors, in one of the following categories:
Ecological transition
Competitiveness & Innovation
Cohesion & Solidarity
As the new Aptar site in Oyonnax marked high across all three categories, it was awarded the "Special Jury Prize".
"We are very pleased to see that our efforts and commitments to France have been acknowledged by Business France by way of this Award. By consolidating five sites into one to address the manufacturing needs of the luxury custom packaging market, our new site in Oyonnax will reduce our carbon footprint, boost our productivity, and dramatically cut time to market. It represents a major investment in adaptability, in operational efficiency, in sustainable development and, importantly, in our local community. We look forward to being fully operational by March 2023," commented Xavier Susterac, President EMEA, Aptar Beauty + Home.
Aptar Oyonnax: Local Expertise, Leveraged for Global Prestige
By investing 42 million euros in Oyonnax, Aptar Beauty + Home to further strengthen its expertise in a wide range of products that are becoming increasingly innovative technically.
Why did Aptar choose France?
To be close to its customers. Aptar has locations in Normandy where it is the largest private employer of the Eure department, in the Paris region, the Grand-Est and Auvergne-Rhône-Alpes. Aptar is also one of the main industrial players in the Ain region and positions itself as an ambassador of the French Tech. Aptar has recently relocated production and machinery from sites in Ireland and Spain to sites in Oyonnax, Verneuil and Le Neubourg.
Cosmetics is one of the flagships of the French industry, and the second largest contributor to the trade balance. This industry combines technical skills (with increasingly high requirements in areas such as dermo-cosmetics), marketing skills, but also great business agility. While retail outlets were closing during the pandemic, e-commerce sales allowed the sector to continue its growth. As facemasks replaced lipstick during lockdown, consumers turned to wellness products, make-up, and nail and hair care. Market trends have evolved, with a strong demand for environmentally friendly products. Cosmetics has become a sector of innovation, with virtually unlimited possibilities in terms of personalization, or the use of smart technologies (digitalization and use of DNA). From this perspective, the French ecosystem is a great asset for the future.
France offers great advantages in terms of skills. Access to academic talent, a long tradition of research and development, advanced digitalization with thousands of start-ups, are a few examples. In France, the apprenticeship system has made progress over the recent years and this demographic development makes of France an attractive investment location in Europe for the years to come.
The investment project in Oyonnax confirms Aptar's long-term presence in the region and gives value to the unique local skills that are essential to the Group's growth. Aptar has 4,200 employees in France, which represent one-third of its global workforce. It continues to develop a network of talents, subcontractors, partners and experts, which are essential for the development of custom packaging. Aptar is repositioning itself in this field by making best of the unique human skills and promoting industrial excellence. With already 3 sites and about 1,000 employees in Auvergne-Rhône-Alpes, Aptar is strengthening its industrial presence in the French territories, building on specific skills and talents, as well as subcontractors and quality technical partners. Professional training is also taking place at the new Oyonnax site to address the technical needs of the future.
Furthermore, France's energy policy offers a great advantage to Aptar, which places sustainable development at the heart of its strategy.
Aptar was named one of the most responsible companies in France by Le Point in 2022, and is certified ISO 14064-1. The investment in Oyonnax is part of Aptar's drive to become a more sustainable company in its operations. The building has been designed to meet the highest environmental standards, projecting a 45% savings in energy and reduction of CO2 emissions by 58% through heat recovery and the end of intersite transport . At the new Oyonnax site, multiple control points and meters will monitor the site's energy consumption. The materials chosen for the building have a low environmental impact. To improve its visual and environmental impact and encourage local biodiversity, the site will be revegetated with a landscaped parking lot, accessible via low-impact means of transportation, plantations and a dry grassland. Thanks to its environmental commitments, Aptar Oyonnax has already received the LEED v4 Silver level certification, becoming the first French Aptar site to receive this recognition.