Micro+ Futurity™: Circularity in Airless Drug Dispensing

Fully Recyclable Monomaterial Airless+ Dispensers
Micro+  Futurity™ takes our Airless+ dispensers to the next level of sustainability for dermal drug delivery. Micro+  Futurity™ reliably delivers semi-solid formulations in virtually all positions with efficient dispensing for minimal product waste.
Most importantly, Aptar Pharma's Micro+  Futurity™ dispensing system achieves full recyclability through its monomaterial construction, consisting entirely of medical grade polyethylene (PE) resin. Our Micro+  Futurity™ dispensing system continues to provides industry leading product protection, drug delivery dosing performance and supports product circularity through ease of recycling, making it the newest member of the Aptar Pharma Futurity™ family.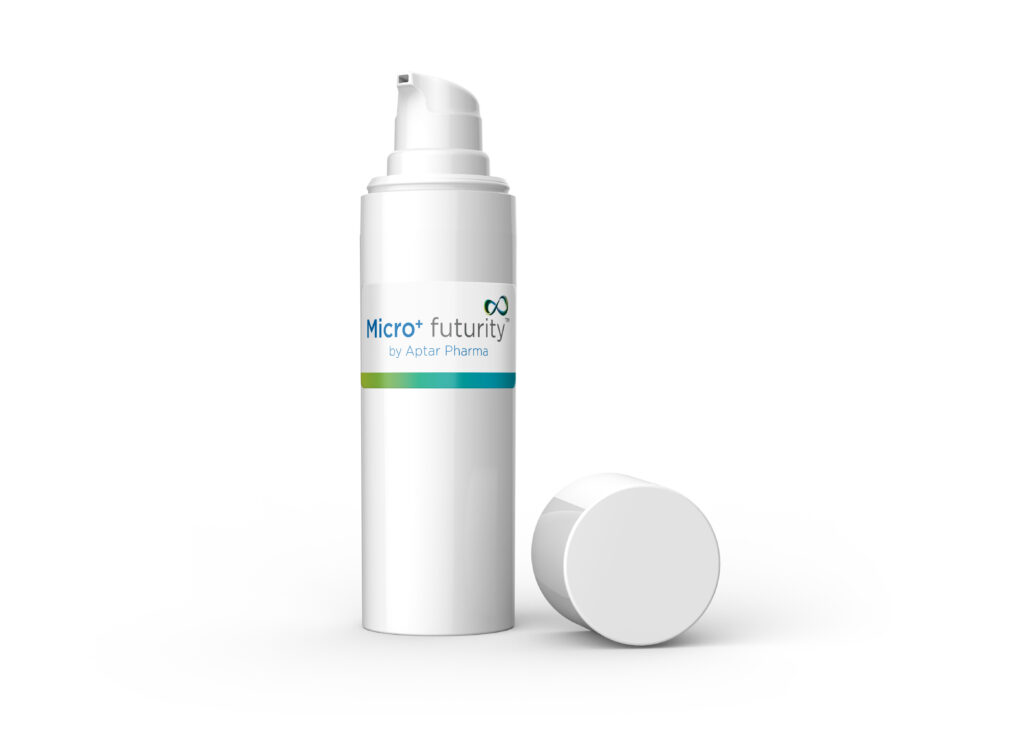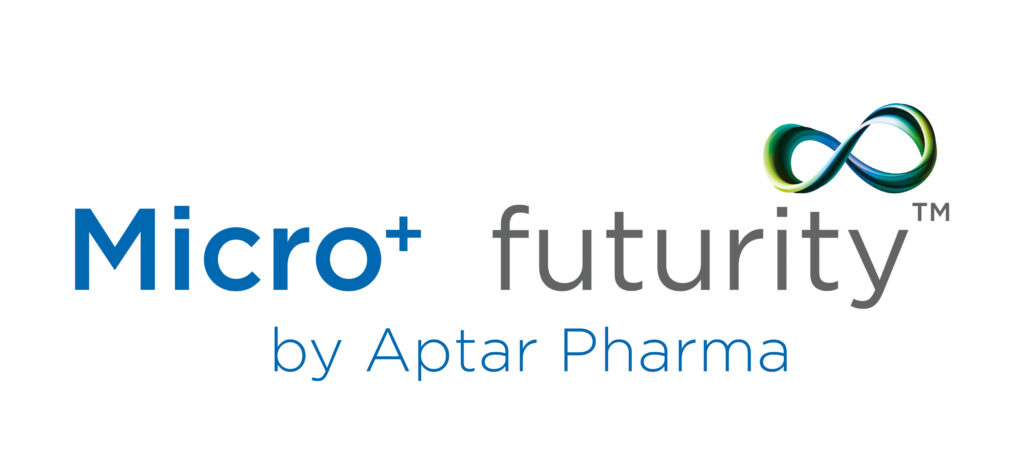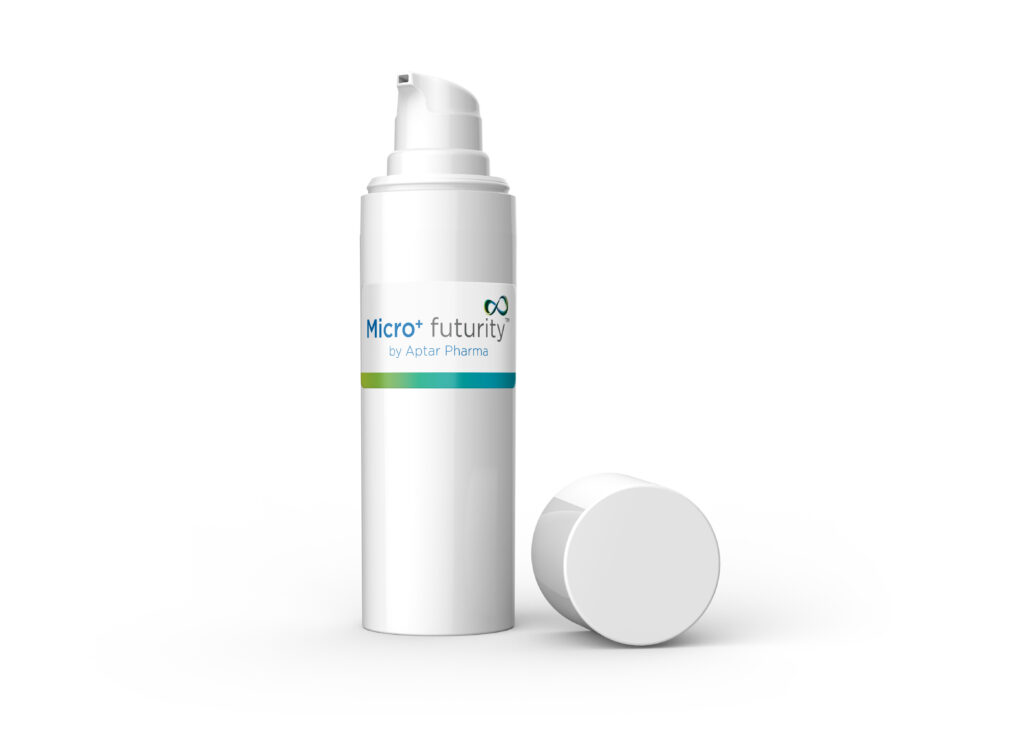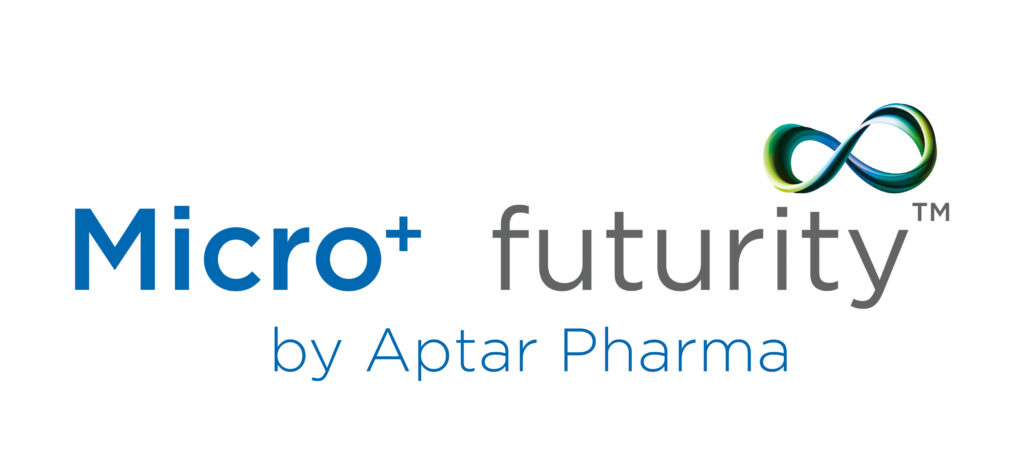 Micro+  Futurity™:  Enabling Circularity
Enhanced recyclability in everyday products is top of mind for consumers and pharmaceutical manufacturers alike. Aptar Pharma's Micro+  Futurity™ drug delivery system was designed to make recycling easy, and marks our first Airless dispensing system that can be fully recycled in existing recycling streams without disassembly or component separation.
The monomaterial construction of the Micro+  Futurity™ dispensing system uses only medical grade polyethylene (PE) so that it meets today's regulatory requirements for primary packaging of medicines that are applied to the skin. And just like Aptar Pharma's renowned Micro+ dispensing system, the fully recyclable Micro+  Futurity™ airless system delivers all of the same product protection and dispensing performance you require from a dermal drug delivery system. These combined features not only advance drug delivery systems, but also demonstrate that the Micro+  Futurity™ supports the circularity needed for a better environment.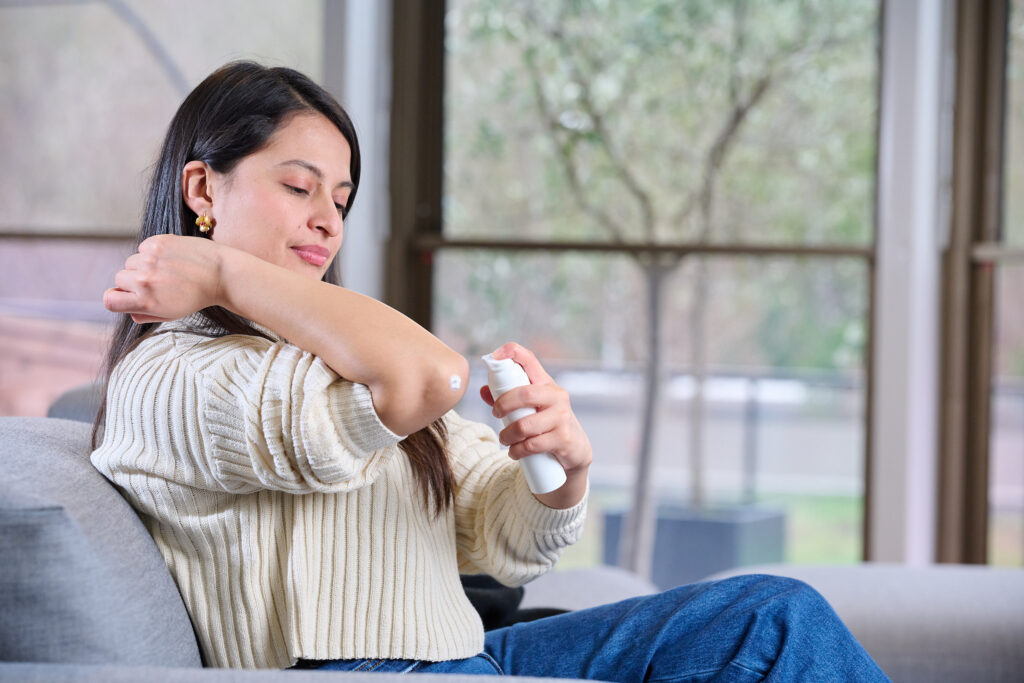 Micro+:  Certified Recyclability
The monomaterial Micro+  Futurity™ was specifically designed for circularity with its all polyethylene (PE) construction. This smart design earned Micro+  Futurity™ the highest recyclability rating possible from cyclos-HTP, achieving "Class AAA+" and 100% "completely recyclable" classifications. Cyclos-HTP is an independent German ratings organization that assesses product packaging recyclability for European countries and provides classifications for individual drug delivery or packaging systems with existing recycling streams.
Using Aptar's proprietary Eco-Design tools is now required for the development of all new products at Aptar Pharma, and Micro+  Futurity™ was no exception. These strategic tools incorporate Lifecycle Assessment (LCA) analysis that consider the product's environmental impact throughout its entire lifecycle. The calculation of CO2 emission levels, recyclability and circularity are key measures that help guide Aptar Pharma towards a more circular approach. Aptar Pharma has embraced a systemic approach to incorporating sustainability and recyclability considerations into the design of all of our products, and validates our successes through the independent classifications received from organizations like cyclos-HTP.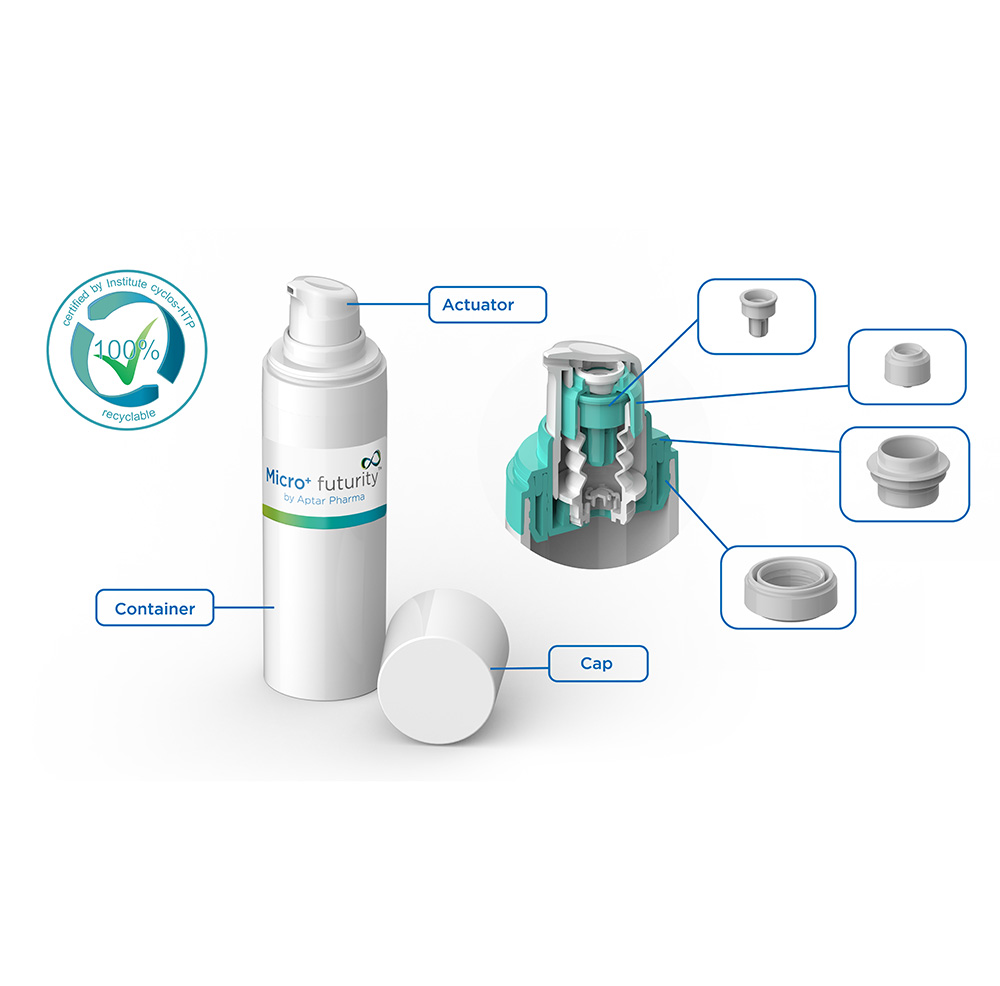 Micro+  Futurity™:  Protecting your Product
All of our Airless+ dermal drug delivery systems provide excellent product protection. Aptar Pharma's renowned Airless+ technology protects even the most sensitive or fragile formulations from exposure to air or environmental influences. Micro+  Futurity™ offers an efficient and reliable dispensing capability that makes gel or lotion content available to consumers to virtually the last drop. This is of particular importance for high-value or drug containing products.
Patients using the Micro+  Futurity™ dispensing systems do not have to struggle to squeeze out the last remaining drops of product like they would with common tube packaging. The emptied Micro+  Futurity™ packaging system can be placed directly into existing recycling systems with no additional requirement for disassembly or separation of any of the components. Aptar Pharma designed recycling convenience into the Micro+  Futurity™ Airless drug delivery system.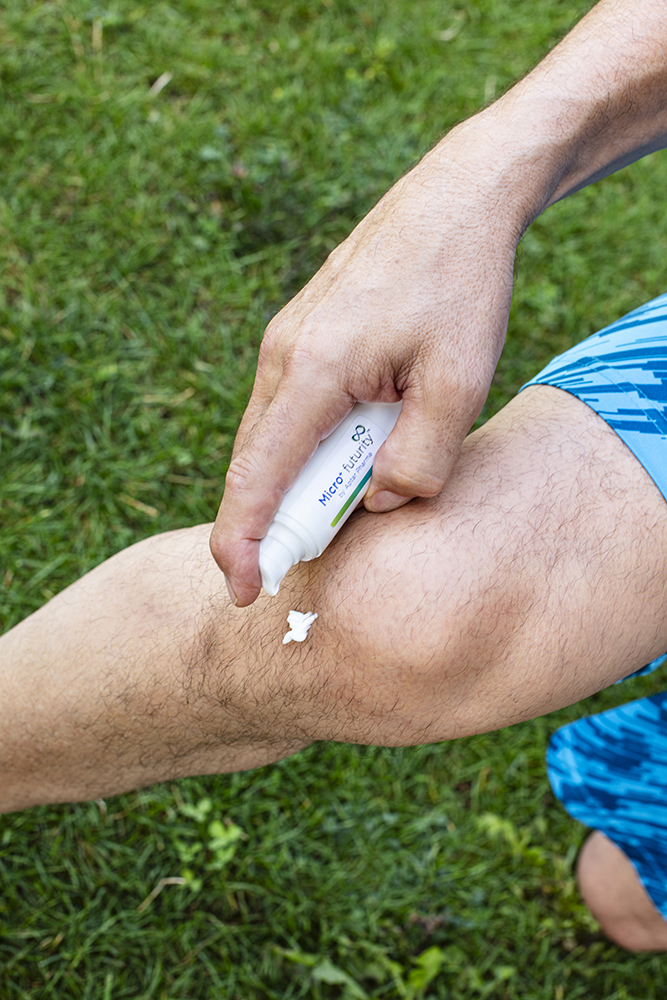 Renewable or Circular Feedstock Use
Aptar Pharma continuously strives to increase the circularity of its products and processes. One initiative that is making a measurable difference at Aptar is the availability of renewable or circular feedstock options.
At Aptar's ISCC PLUS certified Villingen site in Germany, where the Airless+ dispensing systems are manufactured, Aptar has implemented a mass balance approach, which makes the documented and accountable use of renewable or circular feedstocks possible. The use of renewable or circular feedstocks reduces the amount of virgin fossil plastics used and contributes to a more circular economy.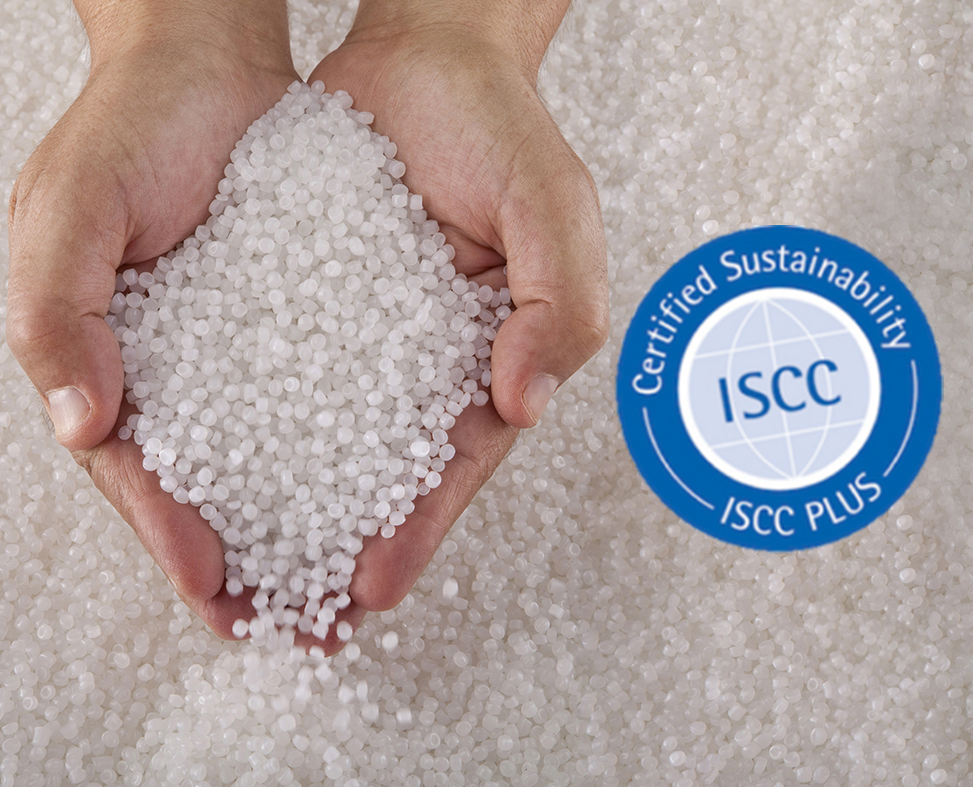 Leaders in Airless+ Dispensing Systems
Aptar Pharma are proven leaders in Airless drug delivery technologies as demonstrated by the number of prescription (Rx) drug references in regulated markets using the Airless+ technology. Airless+ technology represents a single source solution for the challenges associated with delivering precise and reliable semi-solid dispensing performance in increasingly regulated markets.
In fact, Aptar Pharma's Airless+ systems were shown to be the "preferred dispensing solution" over common tubes in a recent Aptar international consumer study in 2023. Respondents clearly indicated that they preferred Aptar's Airless+ systems because they were clean and convenient to use, and their efficient dispensing technology reduced overall formulation content waste, especially important for high-value products.
The high evacuation rate of drug product from the device also means consumers can simply place the empty device directly into recycling streams without any need to disassemble or prepare the device for recycling, which makes recycling easier and increases the proportion of devices that will be successfully recycled. With differentiated looks and performance, Aptar Pharma's Airless+ drug delivery systems stand out in a crowded market. We're driven to innovate and improve the recyclability of our products, which is fully supported by the consumers who use them and continue to demand more sustainable options for semi-solid medication dispensing systems.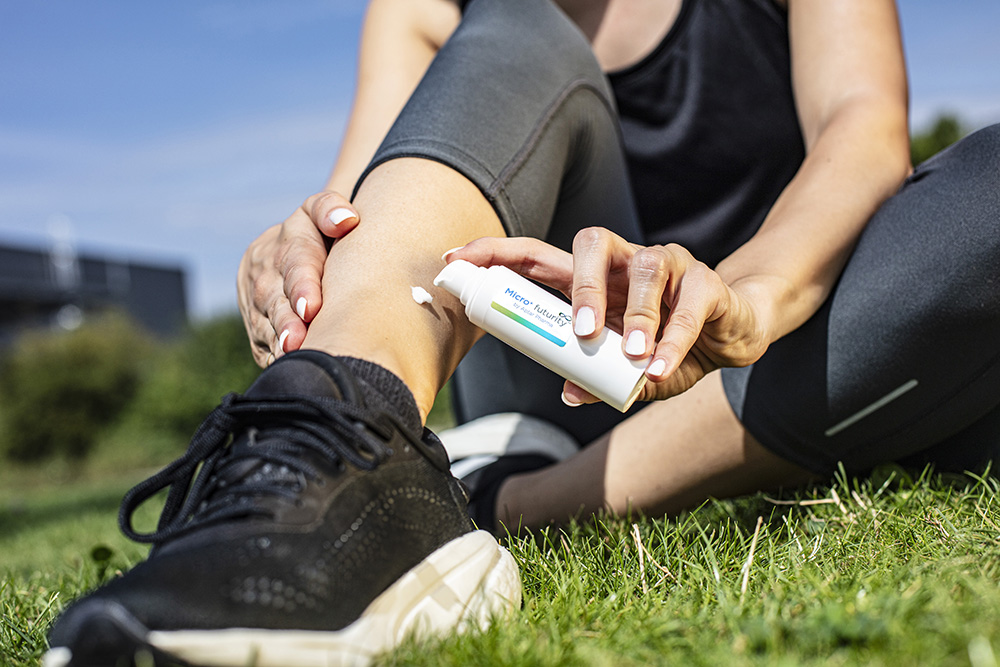 Micro+  Futurity™ Fully Recyclable Airless Drug Delivery System
Monomaterial Airless+ System
Fully recyclable in PE-stream
Composed of only medical grade polyethylene (PE), the Micro+  Futurity™ recyclable Airless drug delivery system can be placed directly into available recycling streams without disassembly by the consumer.
Certified for Recyclability
Cyclos-HTP rated "AAA+"
Micro+  Futurity™ was certified "completely recyclable" by cyclos-HTP. Its high evacuation rate minimizes drug product waste and reduces interference with recycling streams.
Performance & Safety
Proven performance & safety
The Micro+  Futurity™ recyclable Airless drug delivery system does not compromise on the renowned convenience, reliable performance and product protection offered by Aptar Pharma's Airless+ drug delivery portfolio.
Consumer Convenience
Preferred solution in consumer studies
An Aptar international consumer survey found preference for Airless+ based on convenience, and precise and no mess dispensing capabilities down to the last drop. With a differentiated look and ease of recycling, Airless+  Futurity™ is the choice for consumers.
Circular Material Option
Renewable feedstocks & mass balance
The Micro+  Futurity™ system provides the option to utilize renewable feedstocks and document a mass balance approach to further enhance the sustainability of the fully recyclable device.
Details on Aptar Pharma's Micro+  Futurity™ Recyclable Dispensing System
Futurity™:  Our Sustainable
Solutions Platform
Our Futurity™ family of products represents more than just products or services with sustainability promises. Aptar Pharma assesses its products by five key criteria including recyclability, emissions, weight reduction, reusable/refillable products, and recycled content to determine if a product meets the standards required to bear the Futurity™ name.
Aptar also considers recyclability classifications provided by external organizations such as cyclos-HTP. Our scientists and engineers attempt to eliminate recycling disruptors such as metals and aim to create monomaterial solutions that can conveniently be fed into existing recycling streams. Some current members of the Futurity™ family include our Advanced Preservative Free (APF) nasal spray pumps, Airless+ dispensers, Ophthalmic Squeeze Dispensers (OSD), Bag on Valve (BOV) technologies and Proventu monomaterial tube closures, all of which contribute to meeting Aptar's sustainability objectives.
The acceptance criteria for Futurity™ will continue to evolve and advance as they must always reflect the current regulatory landscape, manufacturing technologies and recycling processes. Futurity™ means that Aptar is looking ahead to future regulations, future technologies and future realities in our world with the goal providing products with enhanced sustainability, recyclability and circularity.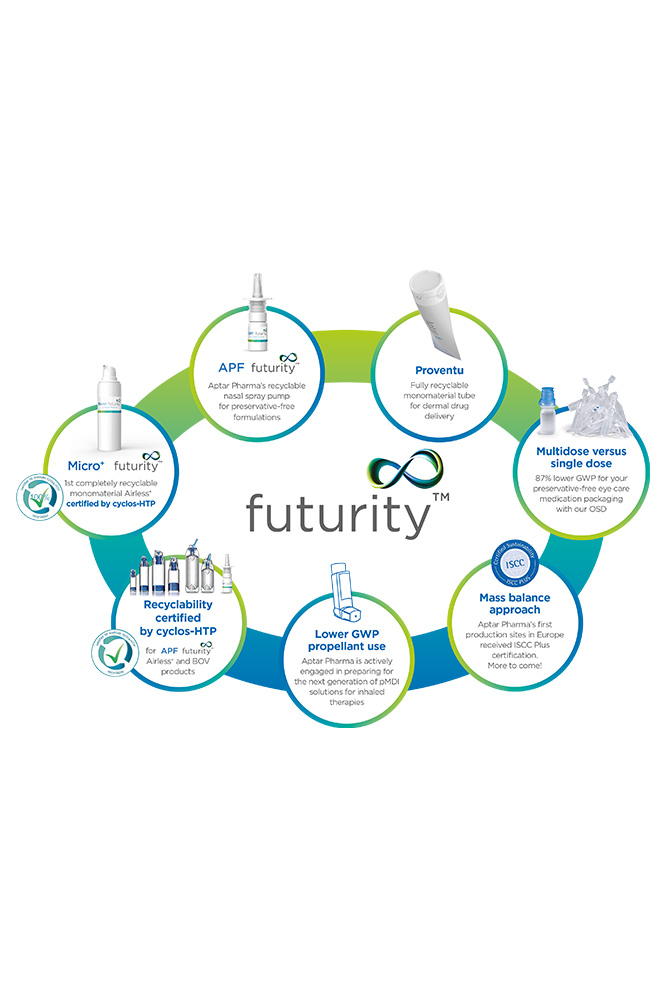 Partners in Recycling
Make your next nasal semi-solid dispenser project more sustainable
This Might Also Be of Interest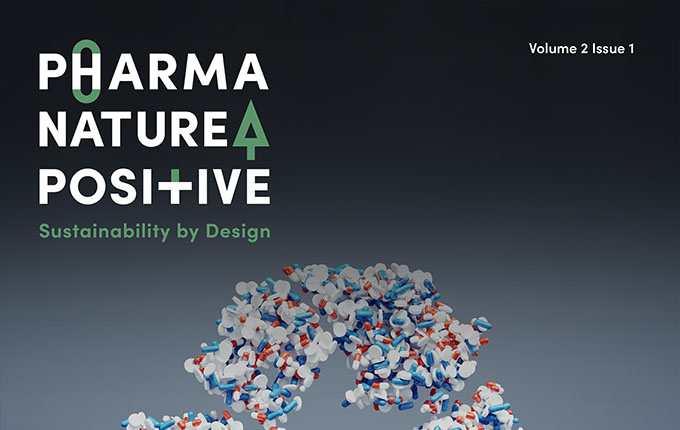 Consumer Driven Path to Circularity and Future Pharmaceutical Packaging
Publications, Pharmaceutical, Market Insights, Product Solutions, Sustainability, Device Innovations, Brand Differentiation
Read More
We Offer World-Leading Support Services for You at Every Stage of Your Product Development
Explore How We Serve Your Market
Requesting information on Micro+ Futurity™: Circularity in Airless Drug Dispensing.