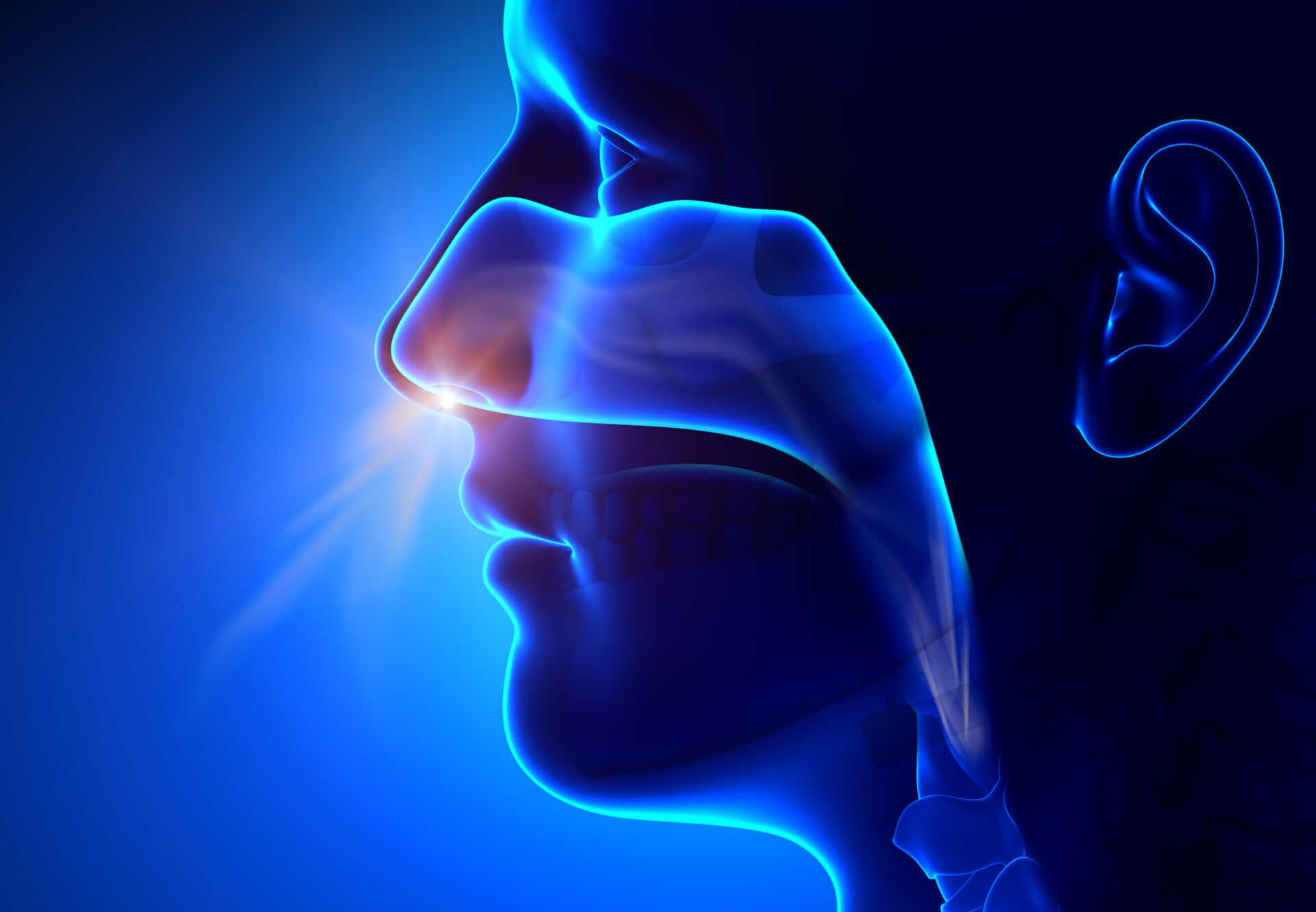 Nasal Drug Delivery
Frequently Asked Questions
Nasal Drug Delivery
Nasal Drug Delivery
Nasal Drug Delivery
Nasal Drug Delivery
Nasal Drug Delivery
Inhalation Drug Delivery
Inhalation Drug Delivery
Inhalation Drug Delivery
Can a nasal spray accurately deliver doses of drug product to the patient?
High-quality nasal spray devices are fully capable of delivering a precise dose of nasal spray drug product formulation, in either liquid or powder form, to the patient. Although there are small differences in the dimensions of people's nasal cavity, Aptar Pharma's nasal spray systems have been thoroughly tested to deliver the required dose of medication for which the product is approved by applicable regulators.
Are there advantages to nasal sprays over injections?
There are number of advantages to nasal sprays over injections. Nasal sprays offer the ability to target drug delivery to the CNS or Nose to Brain pathway and can bypass the blood-brain barrier that can block some small molecules. Nasal spray formulations can achieve comparable blood drug concentration to some IV formulations, but with lower formulated drug concentrations leading to reduced side effects. Nasal sprays are non-invasive and do not require skin injections. In addition, nasal sprays can be self-administered or can be administered by non-Healthcare Professionals (HCPs) almost anywhere making them portable and ideal for emergency use applications.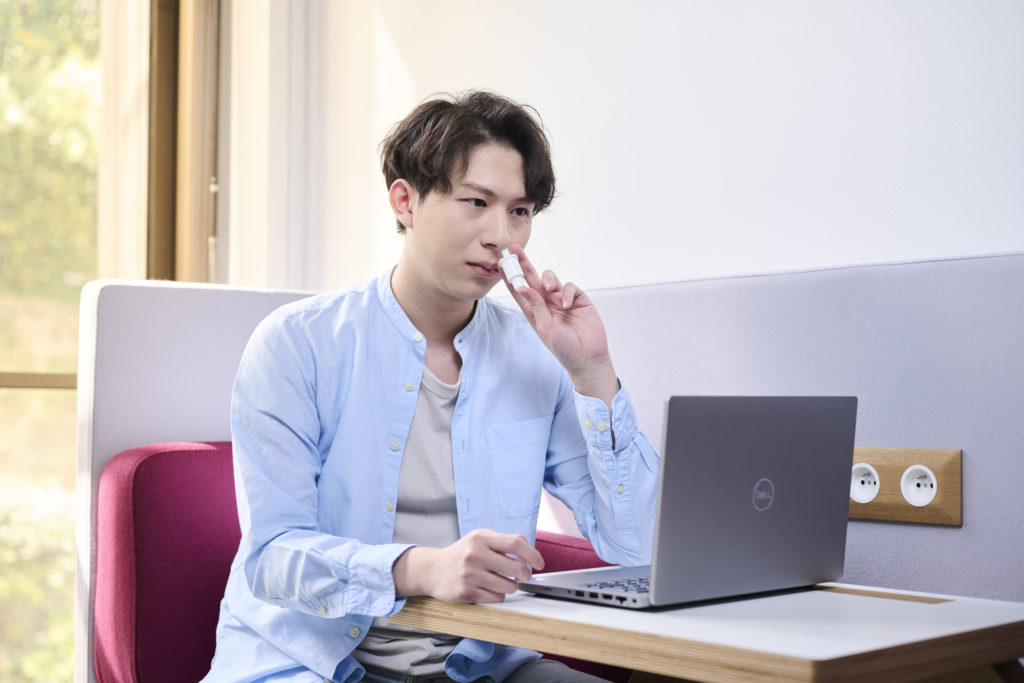 Are there advantages to nasal spray drug delivery over solid oral dosage forms like tablets or capsules?
Nasal sprays can provide a reduced side effect profile, as nasal sprays can use less Active Pharmaceutical Ingredient (API) to achieve dosing levels because they avoid the gastrointestinal (GI) system (and first pass metabolism effects). Nasal spray delivery can improve bioavailability and sensitive or complex oral formulations can sometimes degrade in the acidic GI system making it impossible to deliver the drug by oral forms. Nasal administered formulations absorb directly into the bloodstream via the nasal mucosa making rapid onset of action possible whereas oral drug delivery must pass through the GI system taking much longer to reach the bloodstream. Nasal drug delivery also provides a convenient, portable non-invasive drug delivery option for patients.
Is a nasal spray painful to use?
Aptar Pharma nasal spray devices can be used to deliver formulations via the nasal cavity, whether they are liquid or powder, safely and reliably with single hand actuation. The tip of the nasal spray device is inserted into the end of the nostril and the actuator is depressed. Nasal sprays are light-weight, convenient and portable drug delivery systems and are non-invasive.
Do you need a Health Care Professional (HCP) to administer nasal sprays?
A Healthcare Professional (HCP) is not required and in many cases the patient can self-administer the drug using a nasal spray device. This gives patients flexibility and control over drug dosing when using nasal sprays. With 360-degree functionality, the dose(s) can be administered from virtually any position. Aptar Pharma's nasal spray systems can be used to administer drug product almost anywhere, making them well suited, even up to emergency use applications.
Can a nasal spray product be self-administered?
Aptar Pharma's Unidose and Bidose nasal drug delivery systems for liquid or powder formulations are so simple to operate that self-administration with one hand actuation is  possible. It does not require any special training or a Healthcare Professional (HCP) to administer nasal spray products with Aptar Pharma Nasal Spray systems.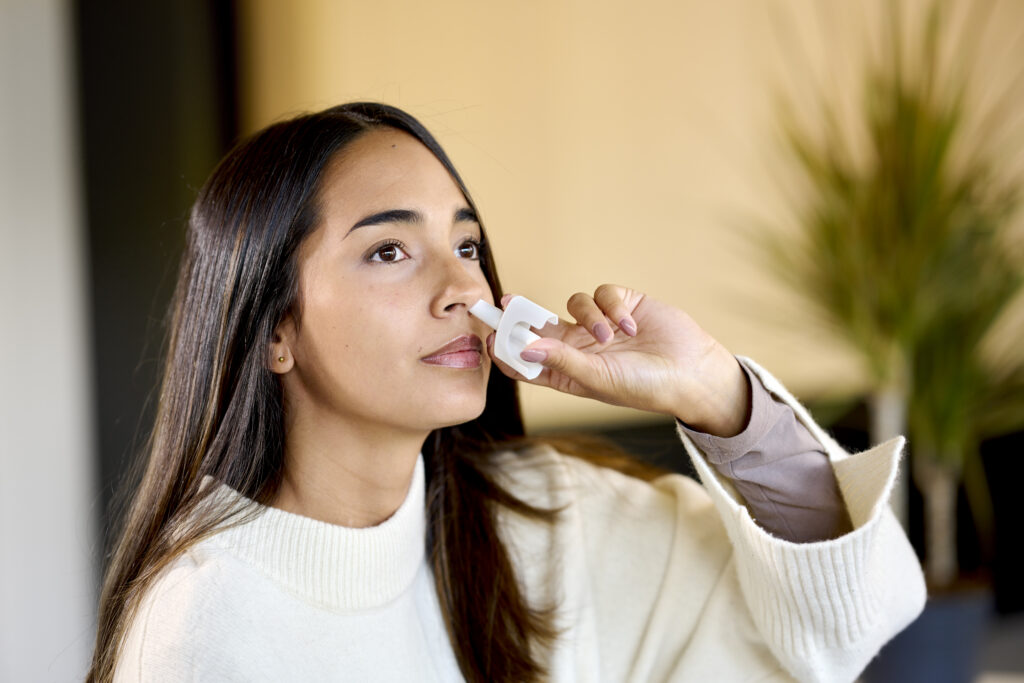 Do nasal sprays require refrigeration?
Refrigeration is a requirement related to the product formulation and not the nasal spray device. Some product formulations are unstable at room temperature and could then require refrigeration to remain stable. Aptar Pharma offers a Unidose powder nasal spray device that delivers dry powder formulations via the nasal delivery route. Because powder formulations do not include any water, they may be more stable for longer periods of time and often may not require refrigeration. Powder nasal spray devices can be alternatives to multi-dose liquid sprays.
Can nasal spray device products be used for emergency treatments reliably?
Aptar Pharma's nasal spray devices are compact and convenient to carry, so they can be on hand for any emergency situation. Our nasal spray systems can be used to administer emergency use drugs virtually anywhere, without the need for a trained Healthcare Professional (HCP). Family, friends or caregivers could administer a nasal spray product without any special training.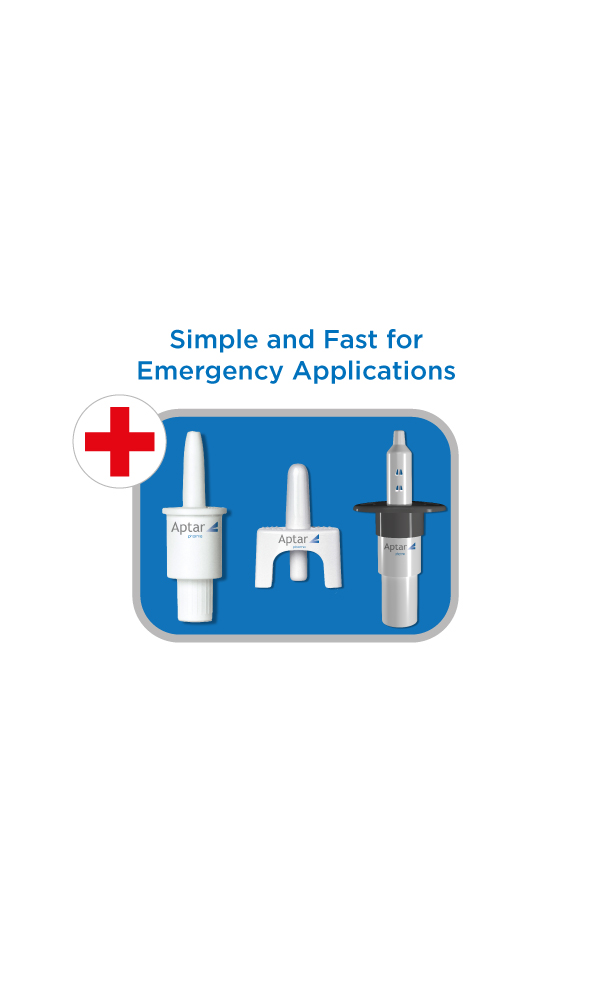 Are nasal spray devices portable?
Aptar Pharma's nasal spray systems are compact, lightweight, and can be carried conveniently. The portability of our nasal spray systems make them suitable for preventative- or even emergency use applications where portability and reliability are key characteristics. Portable nasal spray drug delivery systems are non-invasive and can also increase patient compliance as they are readily available when they are needed to be used.
How do you know if the nasal drug delivery device has a dose or doses remaining? How do you know if it is empty?
Aptar Pharma's Unidose and Bidose nasal spray systems, for powder or liquid formulations, include an integrated dose indicator so users can be immediately confident of the number of doses remaining in the device.
Can a nasal spray device provide brand differentiation?
Aptar Pharma's nasal drug delivery systems can provide numerous options to differentiate customer products or their brand. By repositioning a drug from another dosage form to a nasal spray format, a customer can differentiate their product in the marketplace. Aptar Pharma's nasal drug delivery systems come in a range of device options, from Unidose, Bidose to Multi-dose, offering a number of customization options, including labelling, to differentiate the customer's brand or product.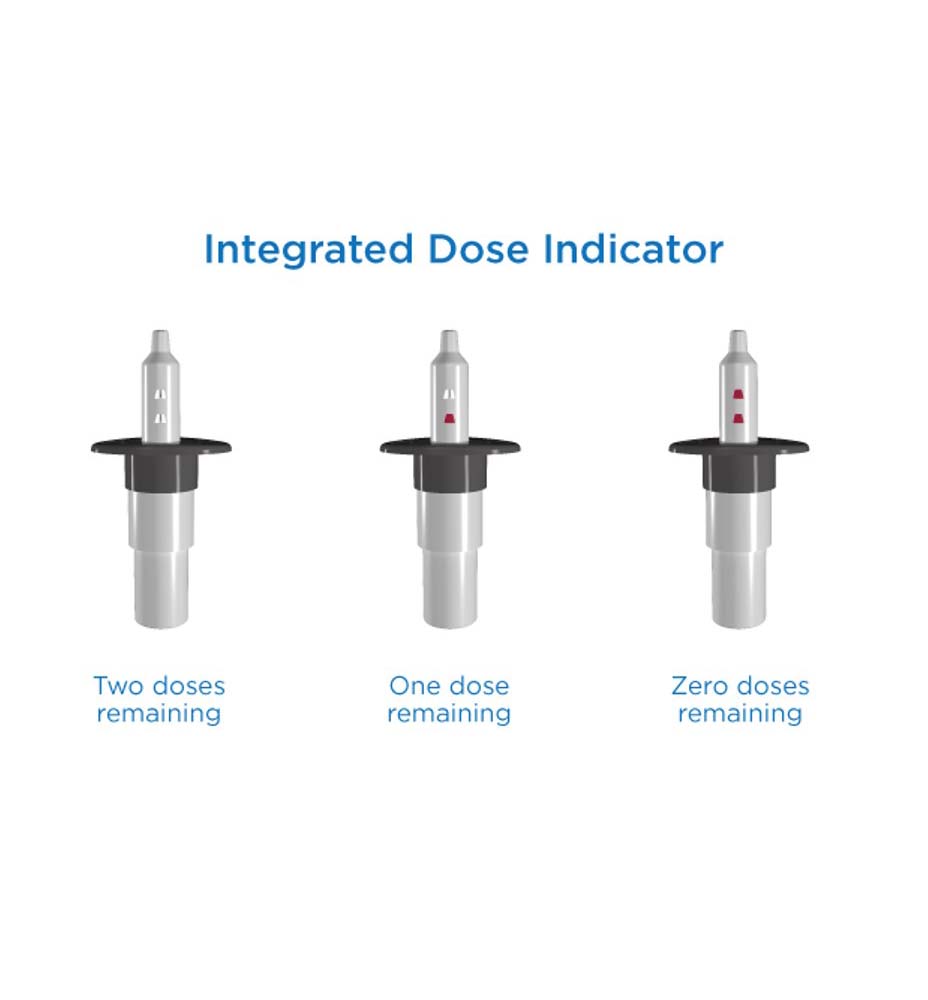 Can Aptar's nasal spray device be used to deliver multiple doses or are they single dose only?
Aptar Pharma's range of nasal spray systems include Unidose (single dose), Bidose (two doses) and Multi-dose (multiple doses) nasal spray devices. This range of options means there is likely a suitable nasal spray device option for most nasal drug product requirements, no matter how many doses are required.
Can nasal spray devices be used for new drug products only?
No. In addition to developing new drugs expressly for nasal drug delivery options, many mature or existing drugs are repositioned from other dosage forms to benefit from nasal spray devices.
Can existing drug products, of a different dosage form, benefit from drug repositioning, repurposing or reformulations to nasal drug delivery formulations?
Yes. Nasal repositioning of an existing approved drug can reduce time to market, as it may require less new development and data to support its regulatory process. Repositioning is well understood regulatory pathway as nearly one third of all new drug approvals are repositioned drug products. Under a U.S. FDA 505(b)(2) filing, you may be able to reference published data from a previously approved similar product which can save you substantial development scope, reduce clinical costs and shorten time to market by years with an additional exclusivity period.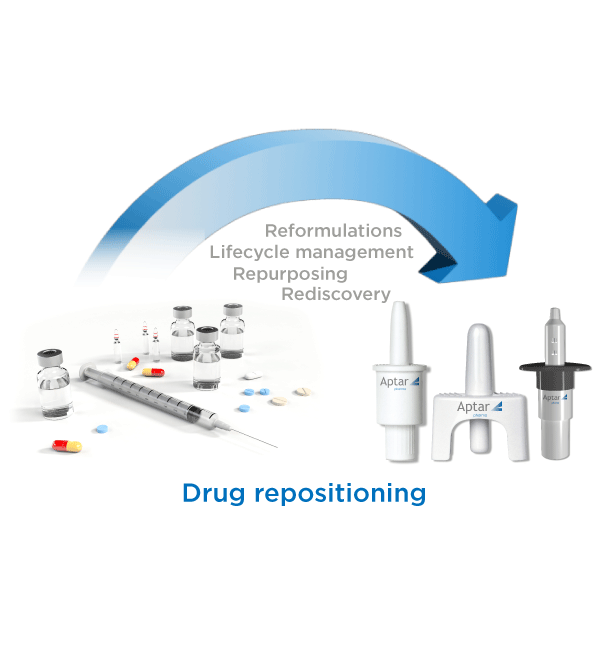 Have nasal prescription drugs been approved by regulatory bodies before?
Yes. Aptar Pharma has a track record of successfully developing nasal delivery products in partnership with our customers for a range of indications and applications. We have over 280 nasal spray and nasal powder market references globally.
Are nasal spray devices suitable for prescription and consumer product applications?
Yes. Nasal spray products are developed and approved for both prescription (Rx) and Consumer (OTC/CHC) products. From systemic or targeted (CNS/N2B) nasal spray applications to multi-dose consumer products for local nasal symptom relief, there are a wide range of nasal spray products on the market.
How do drug formulations delivered by a nasal spray device reach the bloodstream?
Nasal spray formulations are delivered to the body via the nasal cavity. The drug formulation administered via a nasal spray reaches the nasal cavity tissue where it is rapidly absorbed through the tissue and into the bloodstream. This can produce rapid onset of action for the drug product in the patient. Some local treatments are formulated to coat or sooth nasal cavity tissue irritation and a not absorbed into the bloodstream.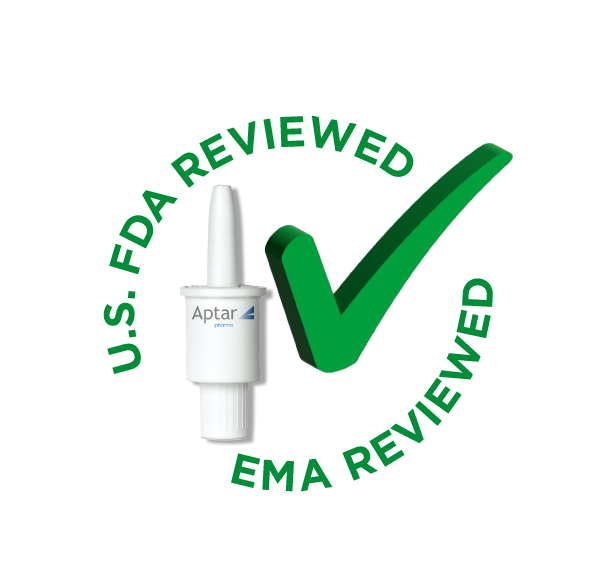 Can nasal drug delivery be used to target delivery of the drug to different parts of the nasal cavity?
Some drug products are designed to target specific regions of the nasal cavity so that the drug product can be absorbed rapidly through the nasal cavity tissue into the bloodstream for systemic applications. Nasal drugs can be designed to absorb and cross the blood brain barrier or absorb into the bloodstream for Central Nervous System (CNS) indications by targeting specific regions of the nasal cavity such as the turbinates. Aptar Pharma is highly experienced in developing formulations for a wide range of applications and can target their delivery with their nasal drug delivery devices.
What is nose to brain drug delivery?
Olfactory targeting is sometimes more specifically called "Nose to Brain" drug delivery. Via this approach, the drug product is formulated and filled into a suitable nasal spray device that is optimized to deliver the drug formulation to a specific area of the nasal cavity. As the nasal spray contacts the region of nasal cavity tissue, it is quickly absorbed into the bloodstream and can reach the brain. This involves the drug being able to cross the blood-brain barrier with rapid onset of action.  Aptar Pharma makes nasal spray systems capable of targeting the Nose to Brain pathway.
Do nasal sprays offer a feature to protect the formulation from microbiological ingress?
The tip seal technology of the Aptar APF platform establishes a physical barrier from the outside of the orifice in the nasal actuator to the inside of the pump. This barrier protects the inside from microbiological contamination.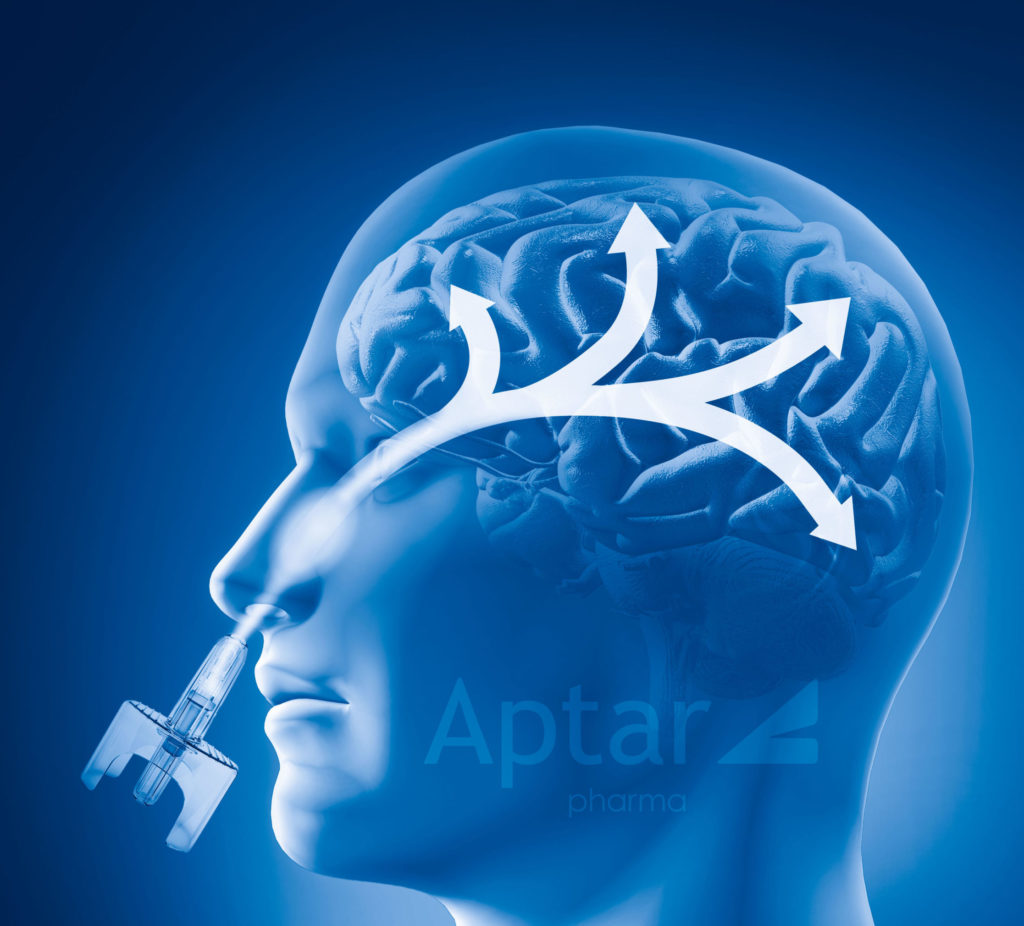 Nasal Product Solutions
Our range of nasal delivery devices, including nasal sprays, nasal powders, inhalers and digital health solutions are used in physician-led (prescription) and consumer (OTC) treatment applications for a wide range of molecule types and therapeutic indications.
Our proprietary and patented nasal drug delivery devices have been European Medicines Agency (EMA) and U.S. FDA-approved with multiple drug products that are used by thousands of patients every day.